LOC Method Means Liquid - Oil - Cream Method! Although the LOC Method can be used on all curl types, your hair's porosity can change the products needed. Knowing what products are right for your specific hair porosity type might be the tip that changes the ultimate results.
What is the Liquid Oil Cream Method & How Does It Work? By now, most people know what the LOC Method is and how beneficial it can be for those with natural hair. And chances are, you've already been doing it. If you haven't or are unsure if you have, here are some tips to follow.
We've put together a list of the best products from trusted natural hair brands for every porosity, to use for the LOC Method.
Step 1: Leave-In Conditioner (Liquid)
Apply a Leave-in or liquid.
For this step, water or a water-based leave-in conditioner on cleansed hair is ideal. You can also use a spray bottle to distribute the water evenly if needed.
The success of this method starts in the first step. This step will set the foundation for good moisture retention, so you want to ensure you choose correctly.
No matter the porosity of your hair, Aunt Jackie's Quench — Moisture Intensive Leave-In Conditioner, Aunt Jackie's Knot On My Watch — Instant Detangling Therapy which doubles up as a leave-in or Design Essentials Almond & Avocado Leave-In Conditioner would be great for this step.
Apart from Aunt Jackie's, You can use As I Am Leave-In Conditioner, Camille Rose - Curl Love Moisture Milk, Design Essentials Bamboo & Silk HCO Leave-In-Conditioner, Mielle Pomegranate & Honey Leave-In Conditioner, Mielle White Peony Leave-In Conditioner, or ApHogee Curlific Moisture Rich Leave-In for low porosity hair.
For high porosity hair, you can use Kinky Curly Knot Today Leave-in Detangler or Mielle Hawaiian Ginger Moisturizing Leave-In Conditioner.
Next,
Let's move on to the oil.
Step 2: Oil
To lock in the moisture from your L step, you'll want to apply a thin layer of O(il) onto your strands next.
The type of oil you use will depend upon the porosity level of your hair.
For normal porosity, Aunt Jackie's Balance Grapeseed & Avocado oil will work.
For high porosity hair, Aunt Jackie's Nourish My Hair Flaxseed & Monoi Oil, Design Essentials Moisturizing Oil Treatment or Shea Moisture Strengthen & Restore Hair Serum would be great.
And for low porosity hair, Aunt Jackie's Repair My Hair Argan oil would be ideal.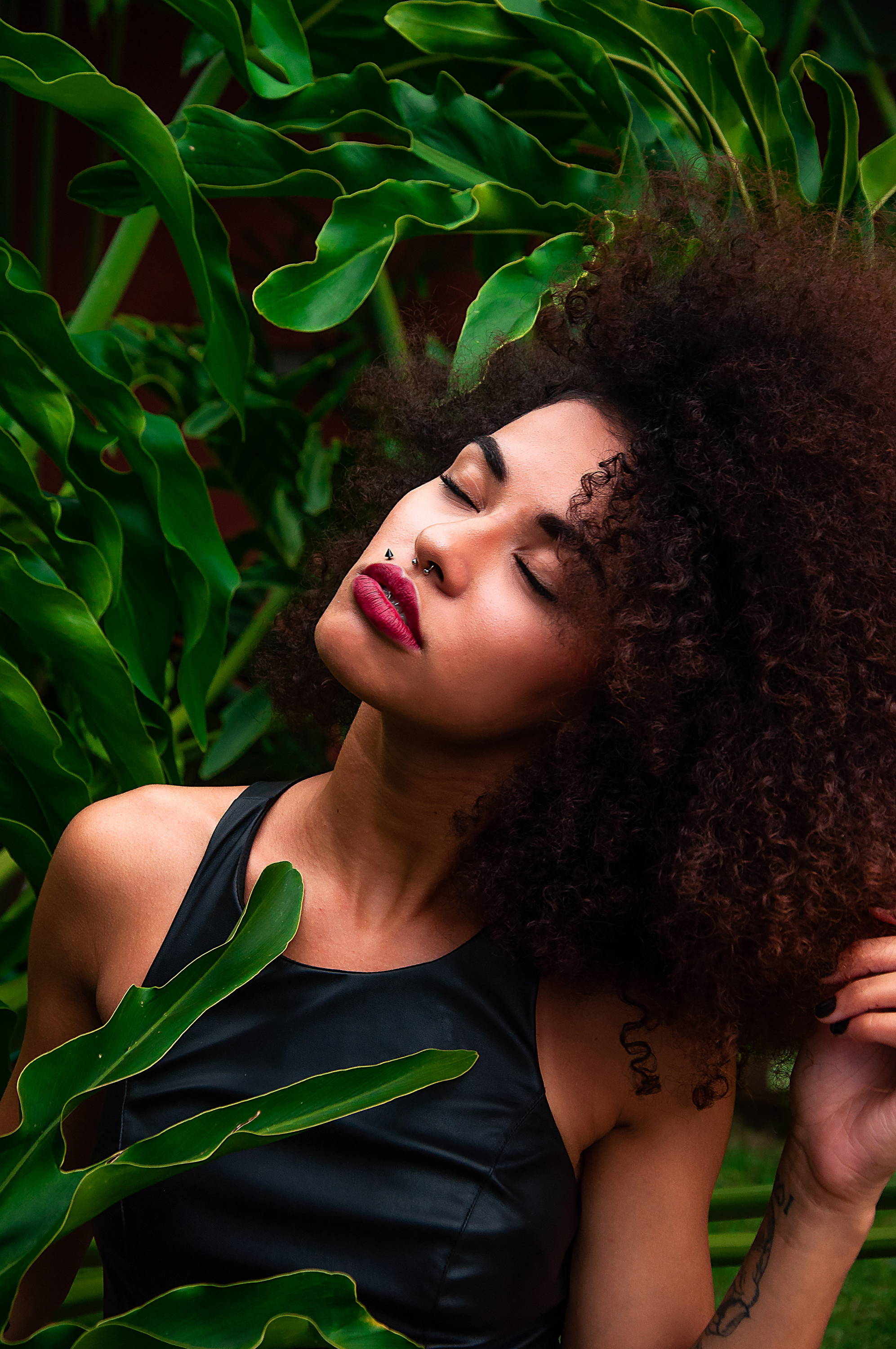 ---
Step 3: Cream
Finally, you're ready for your Cream.
When you're applying the LOC Method, the cream you use to seal is essential, too.
If you have low porosity hair, you cannot use the same hair butter or creams as high porosity hair people.
If you're high porosity, adding the cream at the end helps to prevent moisture loss, closing the cuticles to secure your newfound hydration. Your hair will still absorb some of the creams, but the oil will stop the strands from drinking too much.
This step also helps to add definition, giving you a bouncier crown.
Here are some creams/moisturizers you can use for the last step:
Aunt Jackie's Butter Crème — Intensive Moisture Sealant, Aunt Jackie's Seal It Up — Hydrating Sealing Butter, Mielle Hawaiian Ginger Moisturizing Hair Butter, As I Am Doublebutter Cream can be used for high porosity hair.
Aunt Jackie's Butter Crème — Intensive Moisture Sealant or Aunt Jackie's Curl La La — Defining Curl Custard would work best for normal porosity.
Finally, for low Porosity hair type, Aunt Jackie's Curl Mane-tenance — Defining Curl Whip would bring great results.
Want to focus more on curl definition? You can always swap the moisturizing creams with defining gel-creams to achieve beautiful bouncy curls.
For low porosity hair Mielle Honey & Ginger Styling Gel, Mielle Pomegranate & Honey Curl Smoothie or Mielle Hawaiian Ginger Styling Gel and for high porosity hair, Shea Moisture Curl Enhancing Smoothie would be a good swap for butter.
---
Low Porosity Product Recommendations
High Porosity Product Recommedations
---